Submission Guidelines:

Submission Link: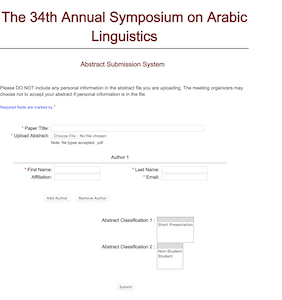 To submit to your abstract, please use this EasyAbstract link at Linguistlist: http://linguistlist.org/easyabs/asal34arizona 
Please fill in all the relevant fields on the submission page and upload a pdf file of your abstract. You will receive an e-mail afterwards indicating that your abstract has been successfully submitted.
Contact:
Should you face any problem submitting your abstract through the above link, please contact​​ the conference organizers at asal34arizona​@​gmail.com.